Full Time
Applications have closed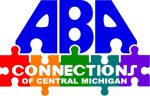 Website ABA Connections of Central Michigan
BCBA
ABA Connections provides personalized service while still adhering to scientifically validated methods in a center based environment with locations in Midland and Alma.
Responsibilities:
The job duties include but are not limited to the following:
Oversee and manage treatment programs.
Conduct initial and ongoing assessments, gaining mastery of a variety of protocols (i.e. ABBLS, VB-MAPP, AFLS)
Provide individualized training for all staff, including mentoring Case Managers to support career advancement
Ensure contracts and billable hours are completed in accordance with approved authorizations; oversee communication with families and funding sources to ensure program hours are attained
Effectively carry caseload with an increasing variety of ages, diagnosis and funding source requirements
Provide progress reports and conduct initial and ongoing meetings with funding sources and families (IEP's, Team Meetings) and ensure all programs effectively target short and long term goals, generalization and community integration
Evaluate Staff Performance for quality assurance.
Develop processes and protocols for clinical staff as needed.
Design of the treatment protocols employed with the company.
Provide clinical consultation (needs assessment, FBAs, service strategies, supervision, clinical interventions, etc.) on an individual case basis, as needed/indicated.
Train and supervise BCaBAs, Master Level Clinicians and Behavior Technicians.
Attend local meetings for the purpose of marketing and relationship building as needed.
Maintain positive attitude and collaborative team philosophy in all aspects of role.
Drive to various locations for supervision.
Perform other related duties and activities as required.
Requirements:
·         Current Board Certified Behavior Analyst (BCBA)
·         Prefer one years' experience in a supervisory role, providing direction to multiple levels of staff
·         Expertise in program design, oversight and management of employees
Qualifications (Skills & Abilities):
·         Exceptional leadership, interpersonal and time management skills
·         Excellent communication skills with executive staff, supervisory staff and therapists
·         Ability to provide positive reinforcement and constructive feedback to motivate staff and achieve desired outcomes
·         Work well within collaborative teams to meet individual and corporate goals
·         Experience managing caseloads and special projects
·         Ability to communicate clinical findings and provide recommendations at a variety of meetings with families and funding sources