What is the Behavior Analysis Training Subsystem?
BATS is a supervisory system within the Behavior Analysis Training System. The mission of the BATS subsystem is to facilitate continual improvement in the areas of quality, accuracy, and timeliness within the overall program. The subsystem's main priority is to increase system accomplishments, minimize the number of disconnects, and ensure that all students complete all necessary requirements to graduate.
The BATS managers' responsibilities include integrating first years into the BATS program through weekly BATS meetings, organizing attendance at professional conferences and colloquia, distributing and analyzing social validity surveys, and organizing and facilitating interview weekend for applicants and job fair for WMU's Department of Psychology.
---
Check out the Systems in BATS!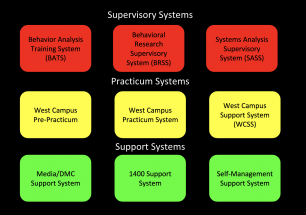 ---